A few days back both my sons (9 and 6 years old) returned from school and announced that they have taken a pledge of not bursting crackers on Diwali. They had a very serious and 'we mean business' look in their eyes. Last year too my elder son kept his word in spite of many temptations from friends and relatives. It's a commendable achievement and I salute them. But the best part was that they didn't stop at that. They decided to start a "No Crackers Club" in our apartment. Along with two more friends, they set out for a door to door campaign and got signatures of several residents! I am so proud of these kids. It's moments like these when I realize that as parents we are doing at least some things right.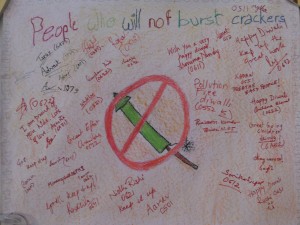 Everyone is aware of the ill effects of bursting crackers… air pollution, noise pollution, child labour that goes into its manufacturing, amount of garbage it generates, accidents, fire incidents, etc. etc. etc. But this post is not about elaborating on these already known facts, but to simply ask a few questions. So here goes:
Why do we still turn blind eyes and deaf ears to all the ill effects? Are we waiting for some kind of a legal ban to make changes? Have we become such an insensitive society that for the sake of momentary pleasure, we justify all the negatives by a one-liner, "Oh come on! this is only for a day and comes once a year?"
I understand that celebrating Diwali the way we do is deeply ingrained in the fiber of our society, but for the larger good, why can't we make small sacrifices?
Why do we want the whole light and sound package and not be satisfied with the Laxmi Puja, sweets and the lights?
Can't we just keep all that hard earned money on the road and put them on fire?
If smoking in public places is banned, shouldn't bursting crackers be banned too as they are equally harmful if not more
Why not organize a music concert with a great laser show instead, at least the noise would be pleasant to the ears.
And finally, if a child can say no to crackers, why can't we?
So what's it going to be for you….Yes, No or Maybe?